CAR WASH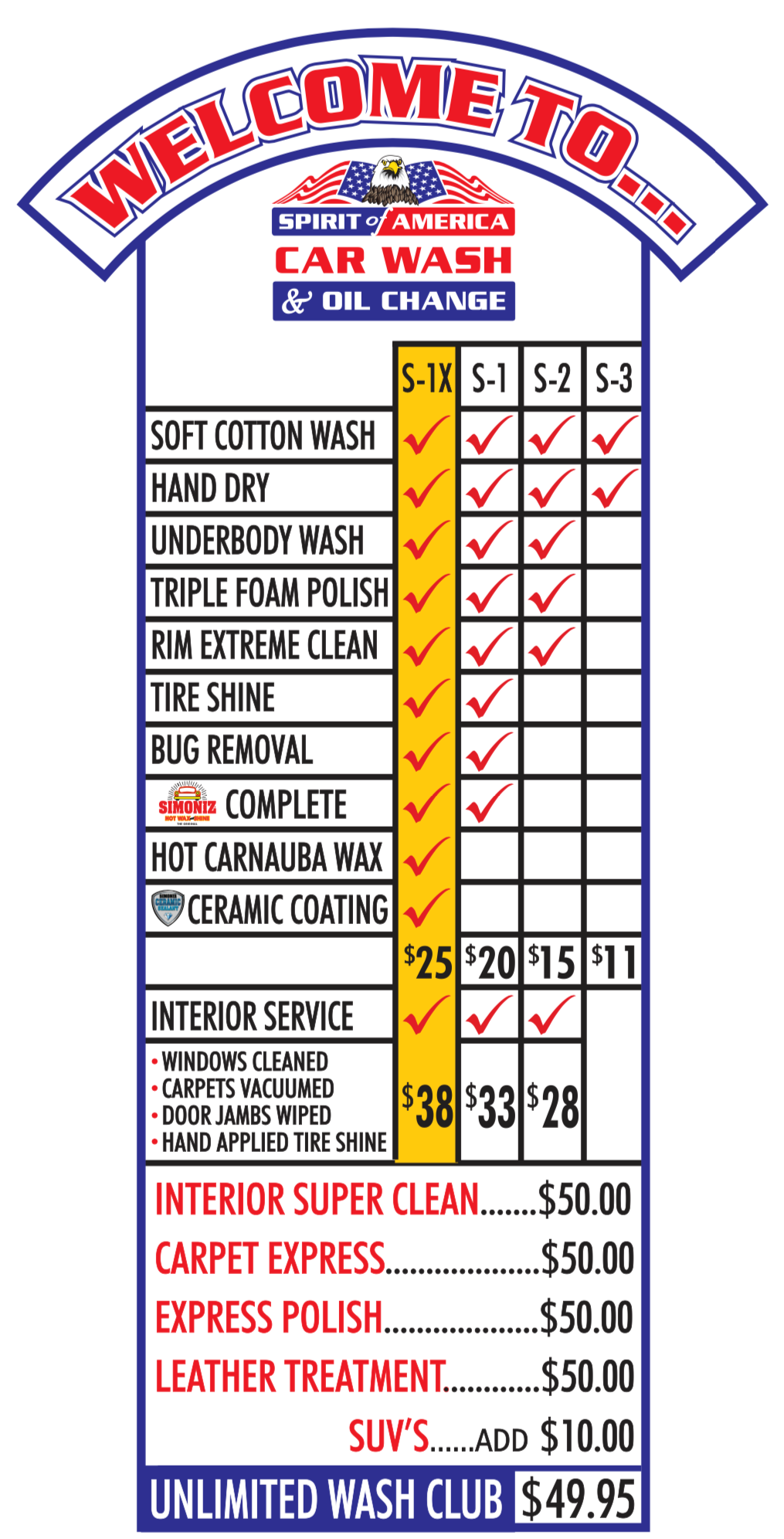 At Spirit of America we developed a state-of-the-art carwash system in order to ensure that you get the best possible clean while still protecting your vehicle. Our progressive car wash system uses brushless, soft cloths and high pressure to provide a thorough cleaning and sparkling shine to your vehicle. And don't forget we offer a free tire pressure check and fluid top-off to all of our car wash customers.
Also, we offer a la cart options including Triple Foam Polish, Rim Cleaner, and a Complete Rain-X treatment. Triple foam polish offers additional paint protection, shine, gloss and water beading. Rim cleaner helps remove brake dust. Also ask for our Rain-X Complete Surface Protectant service. Rain-X Complete gives your vehicle increased shine, better surface protection, and water repellency for safer driving in poor weather. Using advanced water repelling technology, the Rain-X product family has evolved to include paint protection and polish products. Now you can give your vehicle the benefits of these Rain-X products right here as your car is being washed – with no additional waiting! Our Rain-X Complete Surface Protectant service is a complete protectant for multiple surfaces and is engineered to create a water repellent layer that chemically bonds to all exterior vehicle surfaces, including glass, paint, trim and plastics.


Rain-X protects against environmental pollutants and surface degradation while providing increased shine and water repellant.

Spirit of America is one of Waldorf's only one-stop car care service centers. Our customers may use any service we provide without setting up an appointment. It is first come, first serve, and many of our services do not even require that the customer get out of the vehicle! However, while you're here you may want to enjoy our comfortable, clean environment including a beautiful outdoor water feature, comfy lounge chairs with televisions, refreshments, Internet access, and the space dearest to our hearts the "Spirit of Charity" room!

And remember we are Earth Friendly! At Spirit of America we use environmentally safe products and recycle oil to be used for heating, etc. This is our effort to help keep our world safe and clean for generations to come.